HOW TO CHOOSE A CATEGORY ON THE FORUM
If you wish to post a WIP "Work In Progress" of your model.
A WIP is a step by step of your model as you build it.
You can post a half started model if you wish too.
It doesn't have to be from the very start.
Choose one of the following Categories if you wish to post a (1)Car in progress OR a (2)Completed model.
If you have a bike you wish to build then Choose Bike Kits:Work In Progress Only.
If you have a model which is part of a scene or a layout, We call that a Diorama.
Post your model with it's Scenery in the Diorama: Completed And Work In Progress.
Don't worry if you get the category wrong, a moderator will happily fix it for you.
HOW TO POST YOUR MODEL
To make your first post you should have two things ready before you begin.

A. Some pictures of your model
B. A photobucket account OR other free image hosting account (see Here)

Take some pictures of your model if you havent got some already.
Goto http://www.photobucket.com or other image hosting website and create a free account so that you can upload your pictures.
For the purpose of this guide I am using photobucket, you can use any you like.
Can we ask that you remember to set the picture size, 800x600 is what is normally used (we ask that members keep the width to a max of 800)
TIP: When you are about to make a new album on photobucket, Use the model and manufacturer as the Title.
It's easier to find in future and also much tidier.
Here is a sample of the one i will use for this post.
Notice, My Album is Called "Ferrari GTO 288 1-16 Fujimi EN"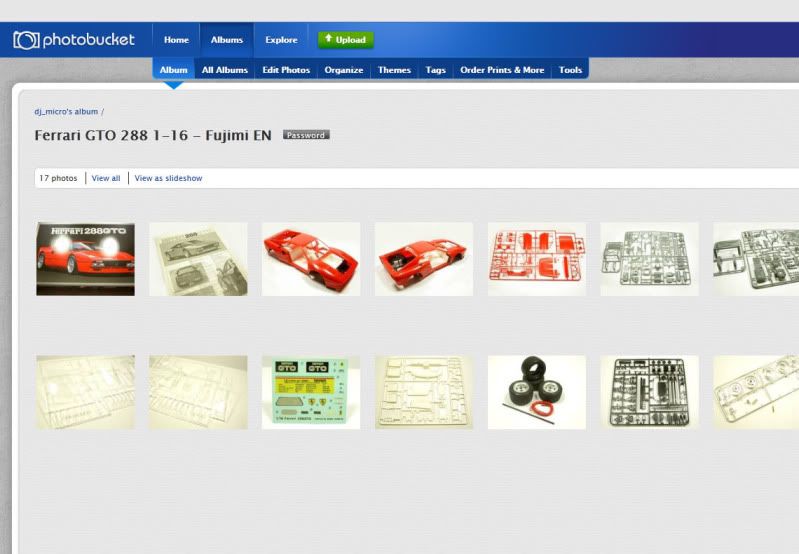 HOW TO COPY AND PASTE
Goto your photobucket account and from the Album you have created choose a picture you want to post.
Hover your mouse over the picture and select IMG Code with your mouse.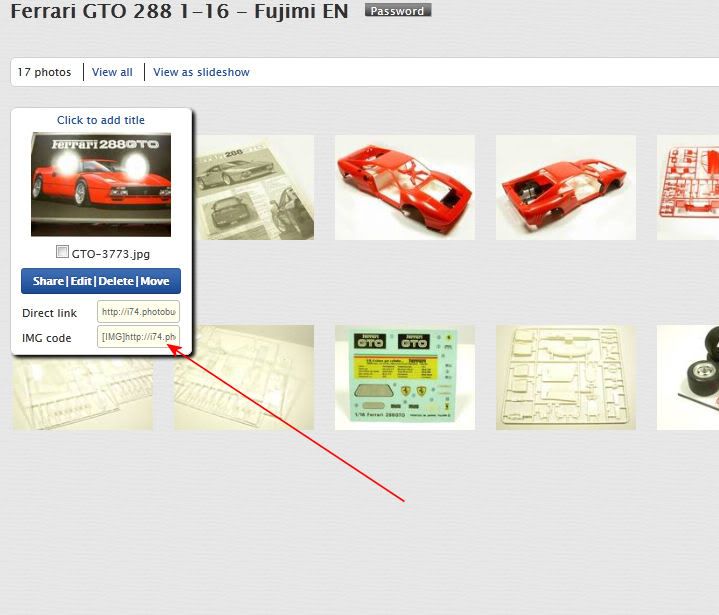 Next, Paste the IMG Code into the message body on the forum.
Copying and Pasting is a commonly used feature.
You can use the left mouse button on the photobucket window and one click will copy the IMG Code to the Clipboard.
You do not need to write it down.
Simply right click with your mouse and choose Paste and anything you have copied to the Clipboard can be placed into the message window.
MAKING A NEW POST
Select your category and choose the New Topic Button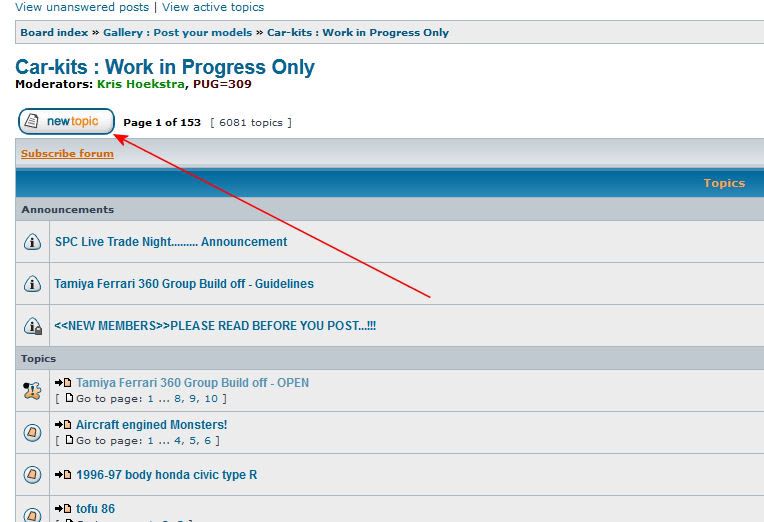 SEE IMAGE BELOW:Add Your Subject,Message body and any extras you might want to add
SUBJECT: is the Title of your post,Often a SUBJECT will have the scale or the model name
or the style of the model. Example. TAMIYA: 1/24 Skyline GT2000 Drag.
The Example is "My First Model"
Message Body:All information that your post will contain, including Text,Pictures,Links,Downloads,Videos.
You can see there is a link from photobucket in this example.
Extras:You might want to add a Smilie or a Poll or a colour to your post also.[/red]





[color=red]You can test if the picture is correct by pressing the Preview button on the bottom of your post
Make sure you are happy with the Subject(Title),
Check your pictures are correct,
Type anything you might want to write.
Choose Preview to see how the final post will look,
Choose Submit once you are happy with your post.
If you have made a mistake or you want to change something,
scroll to the bottom of your post and choose the Edit Button on the right hand side.
You can change anything you like.
If you are having a problem let a moderator know and they will happily help you with your posts.